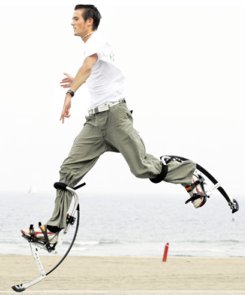 First thing you'll notice with that image is the striking resemblance to the prosthetic device used by Emi, mechanically they're exactly the same.
These things are called
powerbocks
, or
jumping stilts
in general. (A person who powerbocks, is called a bocker) They have a simple snowboard-like binding where your foot is attached, and a fibreglass leaf spring for the "springyness". While considered to be rather exotic in the eyes of standard humans, I've been powerbocking for many years now and it's just the norm for me personally. They're the same as a bike or a pair of rollerblades would be to you.
In terms of increased ability, powerbocks allow the user to jump and run higher/faster. Generally around 2m strides and 1.5m jump heights (Don't quote me on these numbers), but totally dependent on the bocker. Look around on youtube and you'll find plenty of people being able to do flips and extreme tricks.. and what-not.
I can't say that I could relate to Emi on a real physical level in terms of being an amputee. But I sure as hell could relate to her on jumping and running on these springy things!
I just thought that this would be something interesting to bring up to the KS community if it hasn't been brought up already.