"Umm... Hanako? I've been meaning to ask you...."
"Y-Yes?" she looks up at me as I ask.
"About your new... err, that is... your..."
With a puzzled look on her face, she tilts her head, despite the immense weight on it; and she asks, "You... you mean m-my new hat?"
"Err... yeah."
There's no one else to witness this somewhat awkward conversation, given that we're in Hanako's room together, reading the latest Zemlya Conspiracy books. Well... her reading them, and me mostly just watching her read. Under that new "hat".
"W-What about my new hat?"
"Well, Hanako...." -- How should I put this? -- "Your new hat... it's... it's...."
"It's... what, Hisao?"
"It's a big, iridescent, multiple-eyed monster snake, with its huge maw clamped firmly on your head."
The monster snake instantly turns every one of its bloody, red eyes to glare maliciously at me. Apparently it's capable of understanding words, and was also reading the new Zemlya book in Hanako's hands, The Zemlya Confederacy, pretty intently.
"It-It isn't very firm..." Hanako says, adjusting the snake's grip on her head.
"Are you sure? Because it looks kind of painful."
"N-No, it doesn't hurt," she says as the monster snake starts to growl. "Lucida is... my friend. She wouldn't hurt me."
"Your... "friend"? ... "Lucida"?"
"Y-Y-Yes... that-that's her name... I named her that...." she says quietly. The monster snake begins to hiss fiercely at me. Does it think I'm upsetting Hanako?
"I see..." I speak carefully. "Where did you find the monster- err, I mean, Lucida?"
"At a fashion store," Hanako meekly replies.
"How... what?"
"At a... fashion store," Hanako says again, slightly less timidly. "Th-They also sell, beetle brooches there too...."
"Really? You mean, umm... jewellery that are shaped like beetles?"
"N-No... they s-s-sell live beetles, b-but with, jewellery glued onto them."
A brief, awkward silence passes between us, with the monster snake keeping its murderous gaze on me.
"Why would-"
"They were also selling a bejewelled Giant Madagascar Hissing Cockroach, which... which isn't a beetle."
"Umm... yeah... I... I guess it isn't."
Hanako slowly looks back down at her book, visibly upset. The monster snake looks like it's about ready to leap at me and attack. Quickly, I try to cheer Hanako up:
"Umm.... Not unless you name it Ringo Starr!"
"Huh?" Hanako looks at me, obviously not understanding.
"Or, Paul McCartney? You know? The Beatles?"
"Oh... right," Hanako says and nods, getting my joke. But she doesn't smile. The monster snake opens its jaws, detaching itself from her head.
"So umm... I guess your pet monster- err, Giant Sparkly Hissing Snake is err, a real head-turner of a hat, huh?"
"Mmm-hmm," Hanako agrees, nodding once. The monster comes slithering towards me, deliberately taking its time.
"So, she's a... Lucida's a tame, Snake-Hat, right? She won't bite?" I ask with a trembling voice.
"Well, she's a Rainbow Serpent... so... she doesn't harm girls...."
The monster snake stops its approach right before me, and raises its horrible head and neck to a stand; it fixes all of its angry, terrible eyes on me.
"What- What about boys, Hanako?"
"I-I don't know, i-it depends," Hanako says, "do you... d-d-do you...."
"Do I what, Hanako?"
"Y-You know... menstruate....?"
"What? NO!"
"Well, then.... I think Lucida might swallow you."
"WHAT?"
The monster snake opens its mouth at me, its three jaws widening into a maw of sharp teeth and moist red flesh, evoking a... particular resemblance to... umm... a certain anatomical feature unique to the female body, a... big, wet, Freudian imagery, like... ummm, like seeing a glimpse of the dark abyss of hell in the open mouth of a Black Mamba.
The monster's open mouth looks like Vagina Dentata, okay?!
"Hanako!"
"B-But don't worry, Hisao! It's okay! Lucida will vomit you back out again!"
"How is that oka-"
Before I can finish, the monster has already bitten and swallowed me whole. I swiftly lose consciousness as the beast works its curved teeth on my limbs and body, forcing me down its fetid gullet.
The last thoughts I have... are regrets....
And a vision... of blood... my own blood... trickling down Hanako's hand... as she once again, puts on her new hat.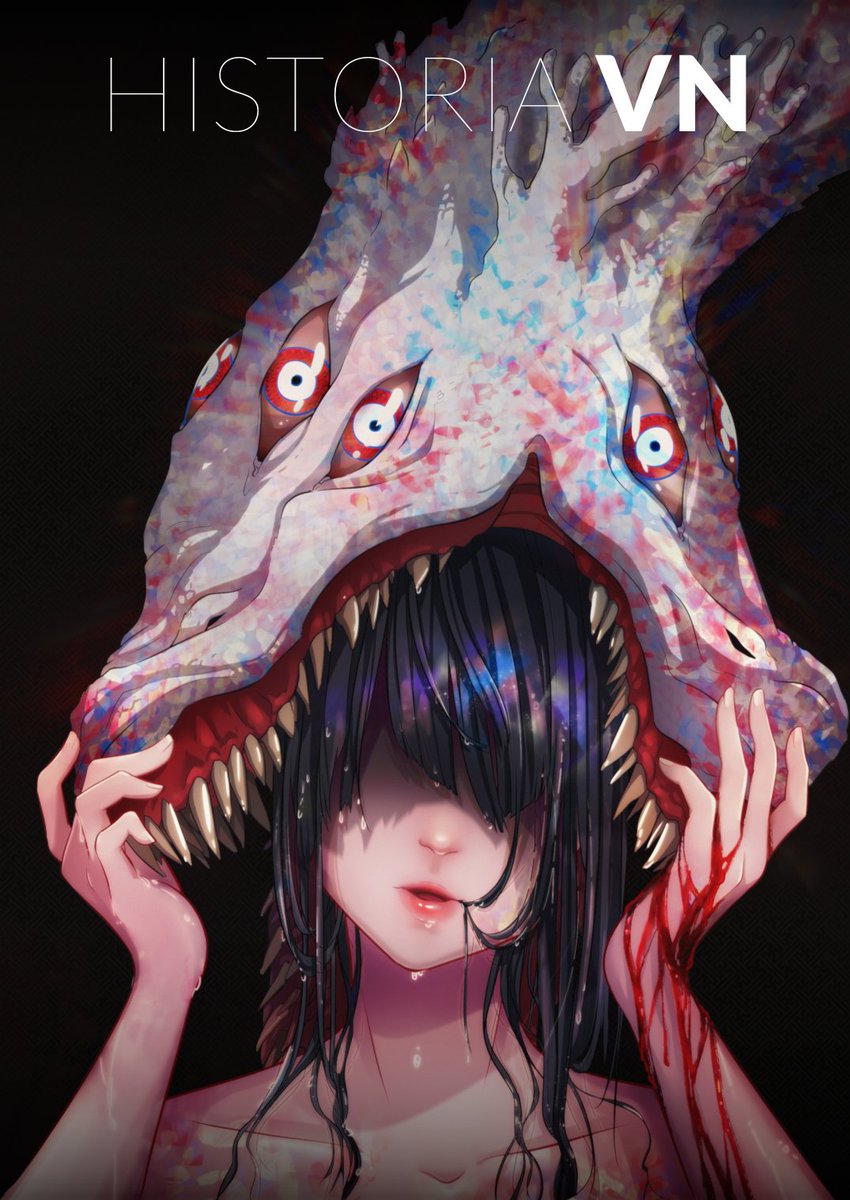 www.cplcrud.wordpress.com/2018/08/10/ne ... lucid-a96/