Actually I'm a major touhou fan (and by major I mean a REAL major. Touhou posters, touhou wallpapers, all touhou games, fan made games, manga, anime and even pronz, hah). Thus I also work on this kind of scenario along with the Mutou fic. It contains youtube links for music essential during reading the fic (music nearly 100% from touhou 12.3 and 10.5, best listened to with headphones on, during nice evenings alone in your room). I hope you'll enjoy as much as I did, laughing my ass of during the writing process.

For newbs: What is touhou? http://touhou.wikia.com/wiki/Touhou lurk and have fun. Or there is no way you'll understand what the fic's about.
For any other weird words ask google. Or that wiki linked above.
( current music in the background http://www.youtube.com/watch?v=A9jTbOVttVM – Usual Days)
Summer at the Nakai Shrine. Hisao Nakai was sweeping the footsteps of the shrine he resided in. He especially kept the areas of the donation box clean. "The cleaner the box, the more donations you can get" said the shrine maiden which resided here before her departure.
That's right, Hisao was just a temporary keeper of the shrine. "temporary" as it was, the shrine maiden hasn't returned from her vacation in ages now. Hisao renamed the shrine from the weird name starting on "H" to Nakai Shrine. Everything else tough remained in the same style as it was in the past: Yin-Yang orbs hanging from the ceiling here and there, the old pretty big and brownish donation box right in the entrance of the shrine itself and the miko quarters, suited for only one person to live in, but big enough to invite a few guests for a few cups of tea. And a pond behind the shrine. In the pond was living a gigantic and very old looking turtle. He even had a beard. The previous shrine maiden said his name was Genji and he hasn't spoken in ages. Hisao wasn't particularly sure the animal was even alive as it was rarely moving and it never left it's pond even for a little while. But he fed the turtle still and everything indicated that turtle was alive since his feed was disappearing as Hisao wasn't looking. He tried to catch the turtle at least on eating but he got bored and gave up after a month. Naturally as he arrived here, the other miko had emptied the storage room leaving only turtle food for Genji.
Hisao kept sweeping mostly out of boredom. Nothing special was going on around. Donations he received were always pathetically low. And he never knew who actually was leaving those coins in the box. He rarely had guests who came to pray at the shrine. Mostly lost travelers, weird natives of Gensokyo and...
"Sup, Hisao" the usual voice was heard behind Hisao's back. He got used to it so much he didn't even turn around to greet the visitor.
"Just sweeping, like usual." he answered with a sigh of boredom.
"Can ya make me some tea, ze?" the person asked. It was also his usual habit to drink tea with Hisao. He seemed like a pretty bored person too.
"Yea, whatever, come inside" Hisao turned around to the visitor as he made his way towards his miko quarters. The person was none other then Kenji Kirisame. He called himself "The ordinary magician" but he was fair from ordinary. He had stupidly thick glasses on his nose (Hisao always wondered if he can actually see anything through those), a black witch's hat tied with a white ribbon, a black vest on a white shirt with a green bow. He also had a skirt on. And a white apron. Hisao was pretty sure Kenji had his Mary Jane's on his feet as well. He came here on a broomstick, which he proudly held in hands.
(switch music to Argue for and Against http://www.youtube.com/watch?v=mZyOb6L1GJc )
"You look gay" Hisao summarized Kenji while leaving the broom outside his room.
"Says who, you shrine maiden!" Kenji replied. They were talking like this for a few months now since they met each other.
"I am a shrine MAN. Not maiden. A Shrine man" Hisao started brewing tea.
"And who ever heard of a shrine man? You're not even a priest! You're a substitute shrine maiden, bro."
"blah blah, shut up"
"Well, my family wears aprons and Mary Jane's for generations. This is a traditional, manly outfit, unlike your crap" Kenji pointed out. He unzipped a little pouch he had on his waist and took out a little bag of biscuits. Snacks, how nice.
"Hey, don't mock the shrine man dress. It reveals my arm pits well and the skirt prevents me from overheating on such warm summer days as this. And the ribbon on the head... is enchanted. Tasty biscuits" Hisao took a biscuit out of the bag and took a bite.
"Whatever. Thanks. Rinnosuke also had new some ones on stock today." Kenji munched on a cookie he got from a weird little package he showed apart from biscuits.
"What are these new ones you speak of?" Hisao got curious. He lost interest in the regular old biscuits. He took a look at the mysterious package: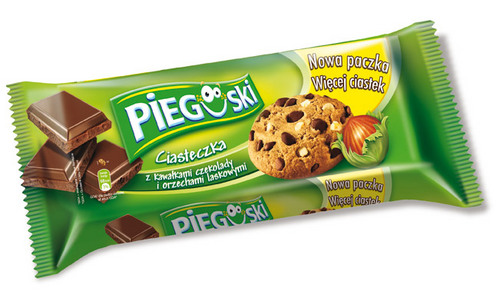 "Now this is very weird and colorful" You sure it's edible?" Hisao raised an eyebrow.
"Rinnosuke said they're fine. And they taste great. If you don't want any, I won't make you eat one" Kenji already had a greedy look on his face. Looks like the cookies really were good.
Hisao took three before Kenji managed to devour all.
"Interesting" he said as he tasted the well made yet simple cookie. "I wonder what's written on this package"
"I have no idea. If this is kanji or an ancient language, then I haven't seen any of these ever. Doesn't matter since they're damn tasty." Kenji ate the last cookie. Hisao brought the tea and they drank, having biscuits and chatting.
.........
Evening came, sun was setting slowly behind the shrine. Hisao got up from the ground near the pond, enjoying the feeling of a grassy field in a hot summer day. He pulled out all weeds he came across during this lazy day. His stomach growled. He didn't have a real lunch today since Kenji left.
(switch the music to http://www.youtube.com/watch?v=DmRv_Zglz44 – Beautiful Nature Sight)
He left the shrine, taking his gohei (
http://en.wikipedia.org/wiki/Gohei
) along with him. He had little money on him but he was hungry. Surely someone will have some food for the Nakai shrine mai... shrine man. He closed his eyes and took a deep breath. His body stayed in the same place, near a path close to the forests, but his sight moved ways up high to sky with great speed. From up high Hisao saw big parts of Gensokyo, but that wasn't enough. His body swung the gohei a few times in eerie circles and his "sight" located in the sky started seeing in infravision. He pinpointed his target, alongside the road not far away. As he regained his sense of sight, Hisao happily went on his way towards his destination.
He started seeing a faint light close to the road just a few hundred meters ahead. As he got closer, he witnessed a stand. It was a grilled lamprey stand, owned by Mystia Lorelei, a Night Sparrow. Hisao was hungry and a grilled lamprey wasn't a bad idea.
The stand was a lonely little place, moving from time to time around Gensokyo, as Mystia lured wandering travelers, causing night-blindness to them, then selling them grilled lamprey, lifting the effect, claiming that it's the food that cured them. Hisao approached the stand nonchalantly, sat down on a free seat and placed his gohei on the ground. Next to him, sitting there was a tall woman, in a light brown shirt, with red trousers and ankle-long white hair with red and white ribbons. She had a bottle of sake and seemed to finish of her portion of lamprey. The very owner of the stand was chatting with her, happily waving her little pink bird wings, in her usual brown clothing and a blue apron. Looks like there's no crowd today.
Mystia turned to Hisao as he came by to her stand:
"A portion of grilled lamprey for you, Hisao?"
"Yeah, I'm hungry. Make it a big lamprey." I think I shouldn't eat such food but... ah whatever, it's not like my heart will...
"And you got money to pay for it?" She asked curiously. Hisao rolled all his coins on the counter. "That's a little low..." She said with a little sound of sadness in her melodic voice. Hisao looked straight in her eyes.
"You know... Maybe I'd like a fried chicken instead..." he said with an evil grin.
"O-oh, n-n-n-o! It's fine, one big grilled lamprey coming right up" Mystia jumped with fear and turned around to grill a lamprey for the one of the Nakai shrine.
Hisao turned his attention towards the woman next to him. Her sake bottle seemed near empty and she seamed a little tipsy, judging by her look. She took out a cigarette out of a pocket of her overalls and lit it. With fire from her hand. Naturally, as expected from Fujiwara no Akira, an immortal with the power to control fire. And the biggest smoker in Gensokyo.
( switch to Drunk as I Like- http://www.youtube.com/watch?v=fLswa5g08Y0 )
"Whatcha lookin' at, shrine maiden?" Akira asked as she noticed Hisao staring at her for a bit longer time.
"N-Nothing" Hisao quickly looked in a different direction. He didn't fear Akira. She was just pretty creepy. She rarely talked with anyone. This stand was the only place Hisao ever saw her.
Mystia brought the grilled lamprey and Hisao began to chew on in silence. The Night sparrow went back to Akira and started talking.
"Thanks for waiting. You know, I had this really handsome visitor a few days ago..." blah blah blah. Mystia kept talking on and on. Akira seemed to ignore her, just sitting there, staring at nothing in particular, but that didn't seem to bother the bird youkai at all.
Hisao nearly finished his meal when Akira got up from her seat, leaving her bottle on the counter.
"I'm goin'" she announced to Mystia and made her way towards the woods in the night.
"Oh, okay. See you!" Mystia happily waved to Akira. She seemed to enjoy Akira's company. What a weird type of friendship...
I waved goodbye to Mystia. He waved me back with a little trembling hand.
(Stop the music)
That was another day of the shrine mai... Man of the Nakai shrine.
(Yes, I'm totally into it. To be continued, naturally.)