Posts: 5
Joined: Sun Feb 24, 2013 9:03 pm
Hey you guys, just made this meme thingy. Thought you might find it funny.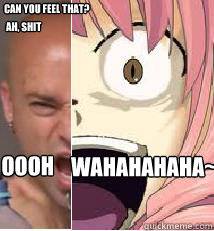 ---
I have to admit, this is pretty funny
"It is not reason, more or less furnished, but will that makes the world march"

"Unfortunately, if you can think of something really stupid, someone out there probably believes it." -Xanatos
---
Scary.
"The way I see it, every life is a pile of good things and bad things. The good things don't always soften the bad things. But vice versa, the bad things don't necessarily spoil the good things or make them unimportant." ~ The Doctor.
---
Posts: 1757
Joined: Wed Feb 06, 2013 6:07 pm
Location: Lost in the wonky province of my mind.
It could have been done much better, but yeah, after realizing what it was, I got a good chuckle out of it. Never would have connected the two like that, literally
---